About Singapore


Unique is the word that best captures Singapore, a dynamic city rich in contrast and color where you'll find a harmonious blend of culture, cuisine, arts and architecture. Singapore has grown into a thriving centre of commerce and industry. Located in the heart of fascinating Southeast Asia, Singapore is the busiest port in the world with over 600 shipping

Singapore's location on the major sea route between India and China. The strategic position has made it grow into an excellent harbor for trade and tourism. Its geographical location is 136.8 km north of the equator, between latitudes 103°38'E and 104°06'E.
Singapore's Central Business District actually spreads across both the central and southern parts of the island (you'll know when you're there - it boasts striking high-rise structures). You can get a good visual orientation to the city as you cross the Benjamin Sheares Bridge on the East Coast Parkway, which links the airport to the city center.
FOUR REASONS TO VISIT SINGAPORE
1. Latest attractions - Be WOW by the World's Biggest Trees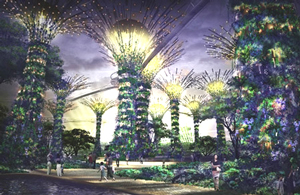 Visit the state-of-the-art Gardens by the Bay, located in the heart of Marina Bay that will define Singapore as the world's premier tropical garden. It's a mega showcase, where visitors can experience and enjoy flora across the board from Mediterranean, Tropical Montane and temperate annual plants and flowering species. Be WOW by the world's biggest trees, 'Supertrees', ranging from 25 to 50 meters, made of steel structures with several functions; as unique, vertical tropical gardens; as the engine room for the conservatory environmental systems; as receptacles to collect rainwater, to provide shade, to be lit up at night and to house an exclusive bar or F&B outlet. Some of the supertrees will also be connected by aerial walkways.
2. Resorts World Sentosa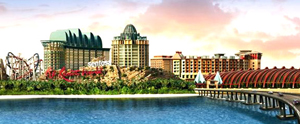 Resorts World Sentosa is the first ever integrated resort on Sentosa island, bringing with it highly anticipated and exciting new attractions such as Universal Studios Singapore®, FestiveWalk™ and, Voyage de la Vie™. Live The Movies™ at the many exclusive attractions found only at the region's first Hollywood movie theme park, Universal Studios Singapore®. Featuring movie-themed rides and attractions, which are unique to Singapore, thrill seekers and families will be the first to experience many new rides and shows based on blockbuster hits. Feast your senses on a world of non-stop entertainment, signature shopping experiences and culinary adventures at FestiveWalk™, and take pleasure in the comfort and luxury of the resort's unique world-class hotels. Brace yourselves for Voyage de la Vie™, an original rock circus spectacular comprising of world-renowned circus stars. Playing at the Festive Grand™ theatre, this engaging spectacle is told through pulsating music, fabulous costumes, awe-inspiring sets and death-defying stunts. Created by an international team, Voyage de la Vie™ will be an entertainment experience like no other. With so much more in store, your adventure at Resorts World Sentosa is only limited by your imagination. This world-class integrated resort is the ideal resort destination where everyone can come together for moving experiences and lasting memories. Come discover a million truly rewarding moments, all in one world.
3. Savour Singapore's Melting Pot of Flavours - Join us in Singapore's favourite pastime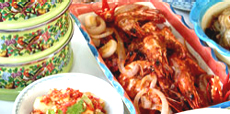 Singapore offers an incredible variety of colourful cuisine and scrumptious dinning choices. Whether in hawker centres, open-air food centres or fine-dining restaurants, you will find an eatery at everycorner that suits your taste-bud. Try our local delights such as Chicken Rice, Laksa, Chilli Crab and Satay!
4. Indulge in Singapore's Shopping Paradise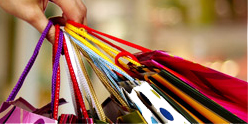 With the second most favourite pastime next to eating, Singapore is passionate about shopping and is fondly called the paradise of shopping. Many tourists come here for the sole purpose of shopping. This small island country has around 250 shopping malls that offer excellent shopping places which will leave you with an enriching buying experience at the end of the day.






5. Singapore Botanic Gardens
The Singapore Botanic Gardens (the Gardens) has been inscribed as a UNESCO World Heritage Site at the 39th session of the World Heritage Committee (WHC) in Germany, Bonn.
For more information please click to visit Your Singapore — Singapore Tourism Board's official tourism website.


EPTC 2021 Platinum Sponsor









KEY INFORMATION ABOUT SINGAPORE
Climate

Singapore is known for its hot and humid weather, with little variation throughout the year. The average daytime temperature is 31°C (88°F), dropping to around 24°C (75°F) in the evenings
Language
English is the main working language in Singapore. Other official languages used are Mandarin, Malay and Tamil.
Transportation
Getting Around – Getting around Singapore is fairly easy: the public transportation system (MRT, LRT and buses) is relatively easy to use and taxis are reasonably priced when you can get one. Getting into Singapore – Most people arrive in Singapore by air. Its status as a major airline hub in Asia makes Singapore a natural starting or ending point for a multi-country tour of Southeast Asia. Most large international airlines have routes to Singapore, in addition to the island's own highly regarded airline, Singapore Airlines.
Currency
The currency used in Singapore is the Singapore dollar (S$). Money changing services can be found not only at the Singapore Changi Airport but also most shopping centres and hotels around the island. You can also access the automated teller machines (ATMs) located everywhere in Singapore, that accept most of the main credit cards such as Visa, Master Card and American Express
Electricity
Singapore uses the "Type G" (British 3-pin rectangular blade) electrical plug. Voltage is 230V, 50Hz.
Cuisine
Singapore is consequently a cosmopolitan place where people from all over the world sit down to enjoy each other's cooking. Each culture has brought with it unique cooking styles including Malay, Chinese, Indonesian, Peranakan, Indian, Thai, Japanese and Korean. There is a vast array of hawker stalls and restaurants, ranging from global franchises to gourmet delis to fancy six-star settings.
Shopping
Orchard Road would be the most popular and most commonly heard names if anyone should mention about shopping. This place is the central hub, also known as the "city" of Singapore, and it is well known among tourists. Orchard Road offers major departmental stores, supermarkets, movie theatres, restaurants, famous hotels and other entertainment outlets.
Cell Phone Usage
Singapore's international dialing code is +(65). While in Singapore and if you have international roaming service on your cell phone, you don't have to press +(65) as it will automatically connect you to the local numbers here.
Top